What an amazing story!! This is from the BirdGuides.Com
…..
A young European Honey Buzzard, satellite tagged by the Roy Dennis Foundation at a nest near Forres, Scotland, in mid-August, has already reached the African continent – albeit via a remarkably risky route that included two long sea crossings.
The bird, '620', was tagged on 11 August and remained in the vicinity of her natal woodland until early September. Her first significant flight came on 11 September, when she moved 50 km to the east, aided by a stiff breeze.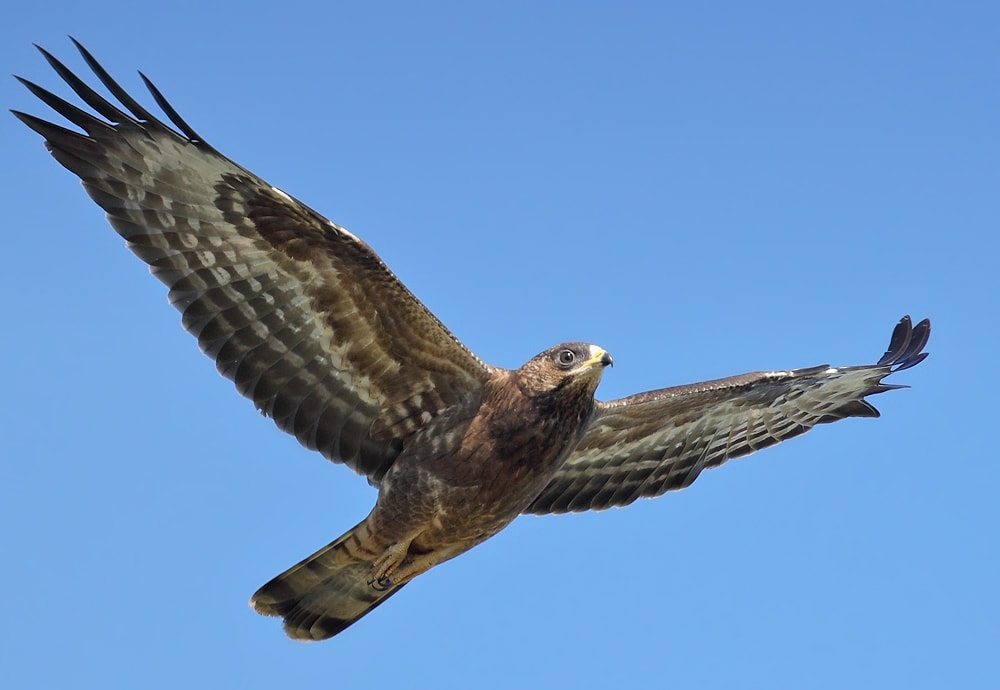 "Doth the hawk (or buzzard) fly by thy wisdom, and stretch her wings toward the south?" (Job 39:26 KJV)

Young European Honey Buzzards, such as this one, often end up taking more convoluted migrations south in their first autumn than the more experienced adults (Per Schans Christensen).
However, this could have given no clues for the extraordinary events that took place on 12-13 September. Clear skies and a brisk westerly wind on the morning of 12th encouraged the young honey buzzard to continue her eastward journey, although the Aberdeenshire coast seemingly provided no deterrant – she continued out to sea just north of Aberdeen at around 11.20 am, with the next GPS position logging her at an altitude of 477 m some 57 km out to sea, south-east of the Scottish city.
She continued on an easterly trajectory and, as darkness fell, she was only half-way across the North Sea. Flying through the night, the next tag fix at 2.34 am placed her a further 282 km east of the previous evening's reading. By 6.30 am, she reached the Danish coast safely, having made a 640-km sea crossing in a non-stop 19-hour flight, largely during the hours of darkness – hugely impressive given it was the bird's first long-distance movement since fledging the nest.
After a couple of days' recuperation, her southward journey recommenced as she gradually made her way through Denmark, reaching Germany by the evening of 17th. She continued on a south-westerly route, skirting the western border of Germany and entering south-east Belgium on 20th, roosting in the country that evening. The south-westerly trajectory continued over the following five days, and '620' had reached Clermont-Ferrand, France, by the evening of 25th.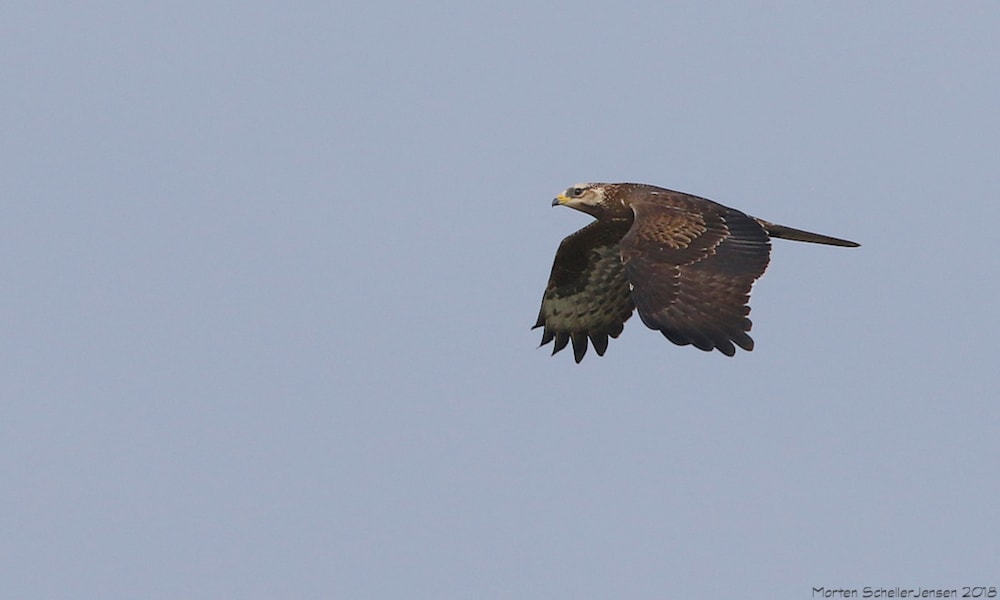 Juvenile European Honey Buzzard photographed on migration in Denmark – a route used by many youngsters of this species, including '620' (Morten Scheller Jensen).
At this point, it seemed as if the south-westerly route would continue, taking the bird into Iberia and, most likely, across the Strait of Gibraltar, which is a well-practised spring and autumn migration route for adult European Honey Buzzards. However, '620' had other ideas.
After two days near Clermont-Ferrand, she flew due south to a wood near Montpellier on the afternoon of 27th. Her migration recommenced the next morning and by 8.40 am she was at the coast. But, instead of following this south-west into Spain, strong north-westerly winds encouraged her to fly directly out to sea.
As she moved south over the Mediterranean Sea the wind veered to a north-easterly and, with a brisk tailwind, her flying speed reached 87 km/h as she flew at altitudes of up to 750 m. By 1 pm she had reached Menorca – but did not land there, instead continuing southwards. By 8.30 pm, the wind had dropped and she was flying due west, having travelled almost 750 km over open sea in 12 hours of continuous flight.
Satellite data suggests she rested on a boat for a couple of hours in the middle of the night, before recommencing her journey south. Finally, by 12.50 pm the following day, she reached the Algerian coast, completing a 1,000-km migration over open sea in just over 28 hours – an astonishing feat for such a young bird tackling its first migration. Not done there though, the young honey buzzard continued inland for a further 160 km, roosting in mountains on the northern edge of the Sahara. It then made a further 60-km movement south and roosted in one of the last patches of woodland on the north side of the Sahara on the evening of 29th.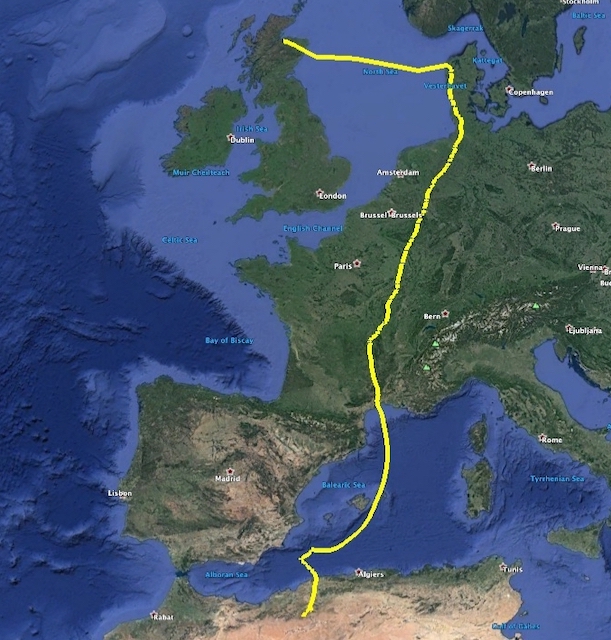 The movements of young European Honey Buzzard '620' between 11 and 29 September, from Scotland to Algeria via Denmark, Germany and France (Roy Dennis Foundation).
This amazing journey shows just how treacherous life can be for migrant birds, especially youngsters in their first autumn, yet also exhibits the impressive feats that they are capable of. But the journey isn't done there, with the world's largest desert still left to negotiate. As the Roy Dennis Foundation wrote on its blog on 30 September: "After two very long sea crossings, the young honey buzzard now faces another daunting challenge – her first flight across the Sahara."
Following 620's exploits at www.roydennis.org/category/honey-buzzard-620.
"Was it through your know how that the hawk learned to fly, soaring effortlessly on thermal updrafts? Did you command the eagle's flight, and teach her to build her nest in the heights," (Job 39:26-27 MSG) [I don't use this version normally, but I liked these verses, in respect to this story.]
What A Creator!!